Posted on Friday, December 1st, 2017 in by Matt Garmony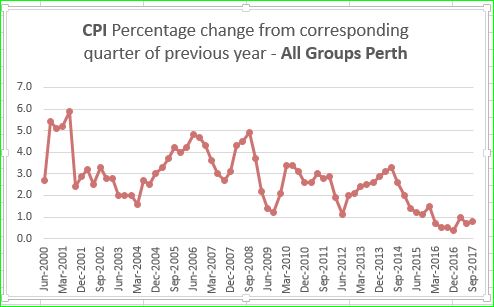 CPI or the Consumer Price Index is results of data collected by the Australian Bureau of Statistics (ABS) which is a measure in percentage terms of the change in the costs of living, being the weighted average cost of a standard basket of retail goods and services expressed in relation to a base period. The Consumer Price Index (CPI) as described by the ABS "measures quarterly changes in the price of a 'basket' of goods and services which account for a high proportion of expenditure by the CPI population group (i.e. metropolitan households)". This 'basket' covers a wide range of goods and services,  including, food and non-alcoholic beverages, alcohol and tobacco, clothing and footwear, housing, furnishings, household equipment and services, health, transport, communication, recreation and culture, education & insurance and financial services.
"Capital city indexes used by the CPI are based on the 2006 Australian Standard Geographical Classification (ASGC) statistical divisions. The capital city indexes measure price movements over time in each city individually. They do not measure differences in retail price levels between cities". (Source: ABS)
In most commercial leases, rent reviews often refer to increasing rent by CPI. This mean the rent will be increased by the percentage change from the corresponding quarter of the previous year. It is also mindful to make sure the reference to CPI refers to the CPI data for "All Groups Perth" if the property is situated in Western Australia rather than all groups in Australia. Please see the historical CPI percentage increases in our spreadsheet extract from the ABS CPI statistics in our Property Tools section of our website or from the link below. https://www.garmony.com.au/property-tools/ to assist with your calculation of rental increases that relate to CPI increases.
For further information on rent reviews or Consumer Price Index (CPI) references in lease agreements, please do not hesitate to contact the licensed valuers at Garmony Property Consultants.